This post was sponsored by See Kai Run. The boots were provided as post compensation and for review purposes. All opinions expressed and photos herein belong to the authors and photographers, as noted below. This post may contain affiliate links.
Winter is coming!
Getting your kids outside during the winter months is not only important for their physical health, but for their mental health as well. The winter months provide different ways of moving our bodies, such as sledding, walking up a snowy hill or building a snowman. Children's larger muscles are put to great use in the winter months due to the challenges that snow provides. This large-muscle use and increase in physical activity support children's gross motor development and overall health. In addition, getting lots of fresh air and Vitamin D decreases the likelihood of winter colds and illnesses, such as the flu.
If your kids are like mine, they've probably outgrown all of last year's clothing, coats, layers and boots. Which means it's not only time to size up, but it's time to reevaluate your needs and check out any new gear on the market. Winter boots are one item that we always need as soon as the weather turns cold. My kids are outside a LOT in various conditions, so we need tough durable, yet comfortable boots. Boots that will hold up to the abuse, allow their feet to grow during the winter and keep them warm and dry. That's expecting a lot.
Get the right gear
One thing I've learned about getting kids outdoors is that having the right gear can make or break your experience. Icy hands and feet are not only uncomfortable, they're dangerous and easily preventable. And there's nothing like cold fingers or toes to guarantee whining and complaining about outdoor weather.  To ensure that your child has fun in the cold, the most important thing to consider is appropriate clothing, including winter boots.
Over the last few years, we've made various mistakes with our winter boot selections and learned many valuable lessons. For example, insulated boots that aren't waterproof, get wet, soggy and cold after playing in the snow. Waterproof boots that aren't insulated don't keep little feet and toes warm enough. The opening of the boot needs to be wide enough to accommodate thick socks and pant legs, but tight enough to keep the boots on in deep snow and keep pant legs secure. Tie boots seem to come untied all the time. Leather boots need treatment and protection. Who knew there were so many considerations when buying kid's boots?
See Kai Run boots
That's why I'm really excited to share the newest line of insulated and waterproof boots from See Kai Run, one of our favorite kid's shoe brands. See Kai Run was started in 2004 by a Seattle mom on a quest to find a shoe that was best in health and design. She ended up launching her own line of shoes that are fun, fashionable and feature the finest in materials and craftsmanship. All See Kai Run shoes are proportionally engineered for a child's foot and designed to promote healthy foot development. They are flexible, which helps develop proper balance, gait and stride. The broad toe boxes give little toes lots of room to move, which build strength in muscles and tendons. Plus, the wide openings and secure closures provide optimum fit for a shoe that's easy to get on and actually stays on.
We had the opportunity to test out a couple pairs of boots from the new line of See Kai Run insulated and waterproof boots. My kids each put a pair of boots to the test as we hiked on a chilly Midwest morning. We also sent a couple pairs out to Salt Lake City, Utah, to make sure they could also withstand the cold and snow of the mountains. I'm happy to report that each pair was a big hit from both kid and parent perspective. Here's what we thought of them and all our favorite features.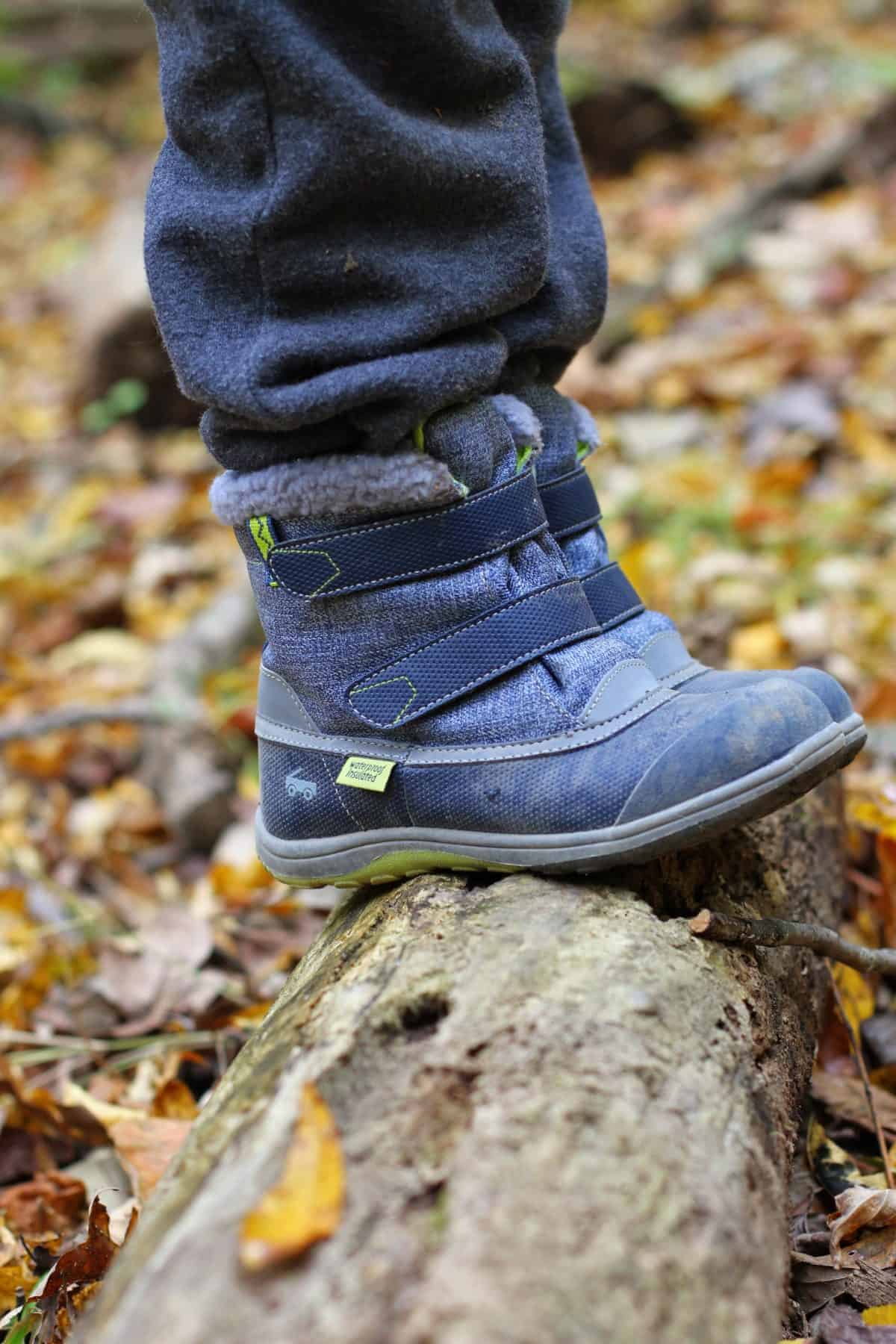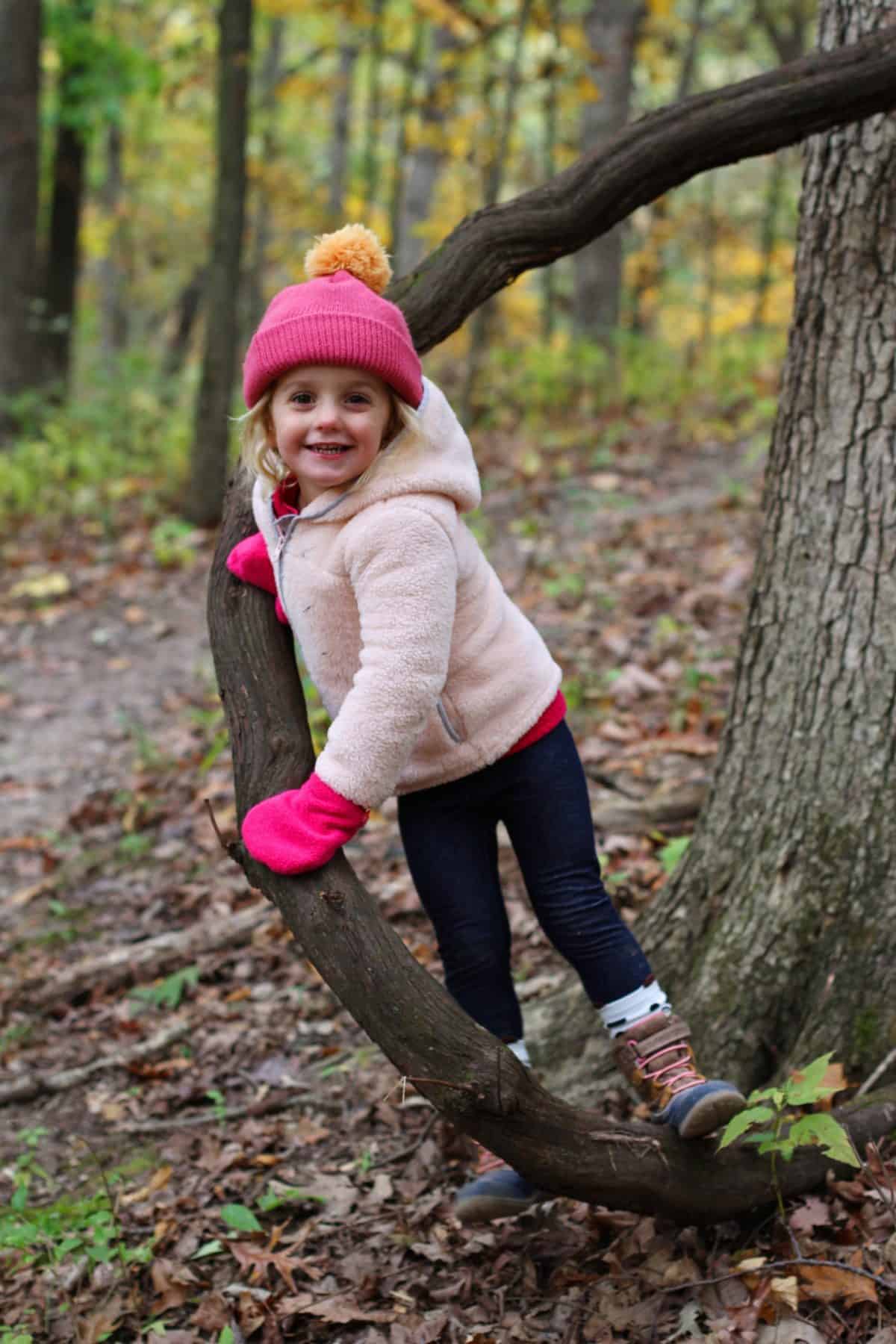 Waterproof and insulated
The first thing I noticed when unpacking these boots was how thick and durable they were. They are not only insulated with a 3M Thinsulate™ thermal lining that is good to -35°, but the insulation is soft and fuzzy (not hard or scratchy). Plus, the bottoms of the boots are made with a thick, seam-sealed, waterproof membrane that keeps water and debris out and increases durability. The rubber traction outsoles are perfect for wet surfaces and aren't slick or slippery. Both kids said the boots were really comfortable, roomy and sturdy. My son loved jumping around in them and smashing pinecones and acorns. Not once did we receive a complaint about the boots on our hike — complaints about the weather, the distance and the lack of snacks was abundant, but not about the boots! We can't win them all, right?!
Wide openings
I loved that these boots all had really wide openings, large enough to fit my kid's wool-sock-clad feet. The double-velcro straps on my son's boots (Charlie) actually made the opening incredibly wide, allowing me to stuff the bottom of his pant leg into the boot opening no problem. Then I could secure the boot around the pants with the velcro. Genius. The tongue on that boot is attached on both sides, so no issue with it moving around, making it easy for him to put his own boots on. The openings on my daughter's boots (Abby) were not quite as wide, but still gave her plenty of room to get her feet into. The laces on the Abby boots are stretchy, allowing the tongue to fold down for easy access. Both boots had wide enough openings for the kids to get them on by themselves, but the velcro straps made them tight enough that they won't slip off while trudging through heavy snow.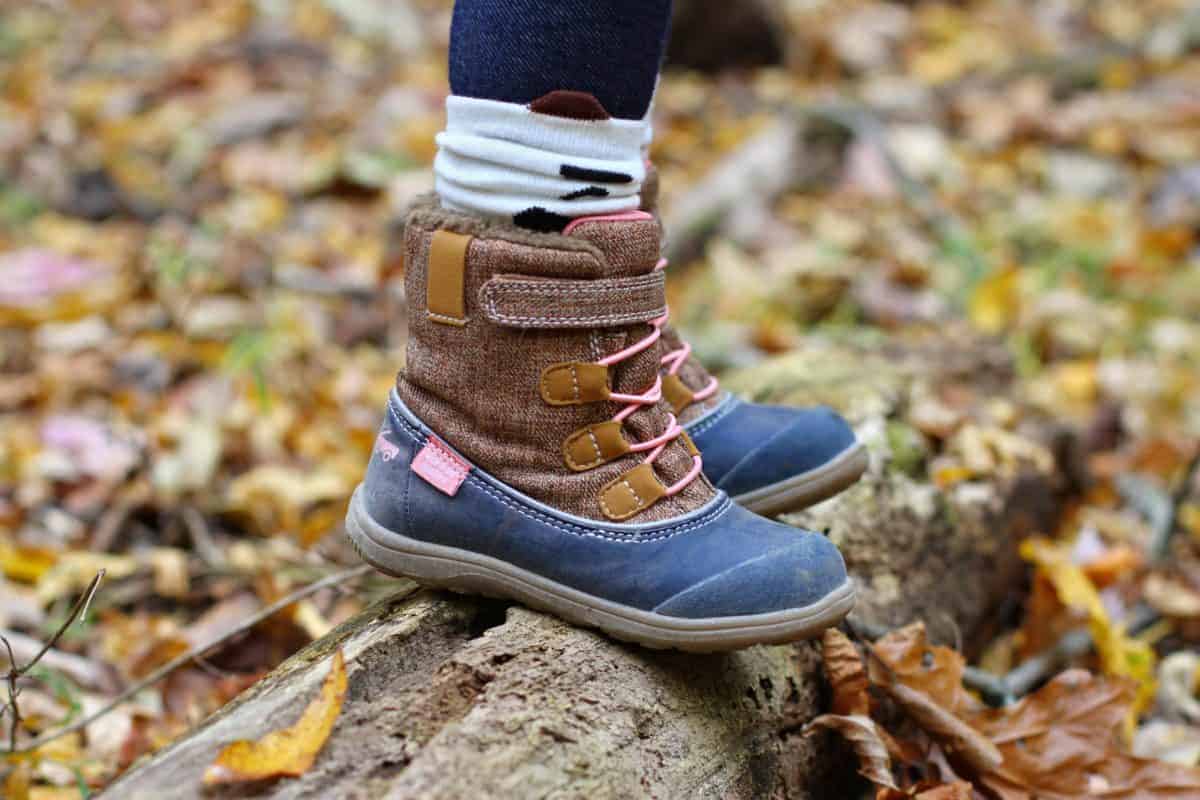 Stylish
While function definitely outweighs fashion when it comes to buying quality outdoor kid gear, this is one of those times that you don't have to sacrifice cuteness in your quest for quality.  The entire line of See Kai boots are absolutely adorable.  I had the hardest time deciding which boots to choose because there were so many great styles and color combos. We chose the girls Abby (brown) and boys Charlie (navy) styles and the kids loved them both. The colors and tweeds are perfect for fall. They're not obnoxious or super bright or gaudy. Most of the styles come in both toddler and big kid sizes. There are tall boots and ankle boots in the new line. Whatever your style is, there's sure to be a boot that you love.
Shop the line
The new line of See Kai Run boots are available nationwide in stores such as Nordstrom, Saks Fifth Ave, REI, Zappos and Amazon! Basically, they're everywhere! Most pairs are priced between $60 – $75, which I think is very reasonable for such a durable, quality boot. These will definitely last all season, get tons of use/wear and can probably even be passed down to the next kid when they're ready to size up. Well-made, comfortable, quality gear is something that you'll never regret purchasing and will make your time outdoors that much more enjoyable!
See Kai Run
If you're in the market for a great, quality kids boot this season, check out the entire line of waterproof and insulated boots from See Kai Run. I have a feeling you'll be just as impressed as I was! You can find them online in the following locations: 
Website
//
Facebook
//
Twitter
//
Pinterest
//
Instagram
What's your favorite outdoor (boot-friendly) winter activity?